0
Christmas Under The Stars 2018
A memorable night of entertainment under the stars of the Akron Civic It's the most wonderful time of the year in beautiful Akron, Ohio! And what better time for a musical extravaganza celebrating the holiday season at the "Jewel on Main Street".
Featuring Northeast Ohio's own Connor Bogart O'Brien as host, bandleader, and featured vocalist, this concert harkens back to the holiday TV specials of Bing Crosby, Elvis Presley and Nat King Cole with the humor and charm of Michael Buble to boot.
Born and raised in Northeast Ohio, O'Brien has since made his living traveling the globe as a sought-after vocalist and entertainer. From touring onstage with some of the world's biggest recording artists such as Richard Marx and Mariah Carey, to charting a number one single in Europe, his current concert schedule finds him in Asia, performing in Shanghai, Hong Kong and Tokyo throughout the fall. Which makes coming home to Ohio for Christmas so extra special.
But this won't be his first Holiday appearance in town. Last seen in the Akron/Canton Area in 2016 on New Year's performing with Grammy Nominee and fellow Northeast Ohioan Jim Brickman, who hand picked O'Brien perform with him on stage at the Palace Theater in Canton, the globe-trotting troubadour has even more reason to return to his roots after being named director of the "All City Musical" this past summer at the very same Akron Civic Theater. That show, "Jesus Christ Superstar" featured over thirty of the most talented Summit county high school performers, many whom will be returning to the Civic to join him onstage as a Christmas Choir for some special featured songs.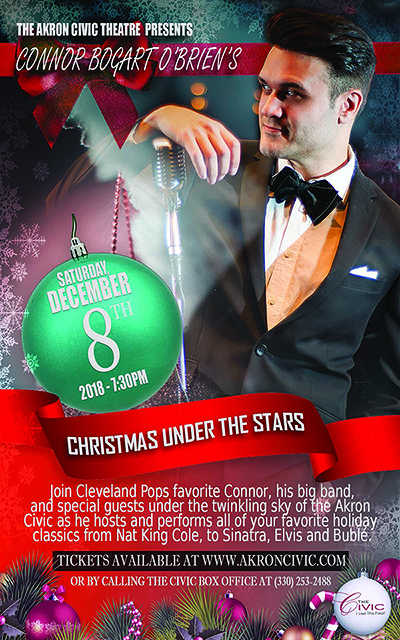 "I couldn't be more thrilled to have the kids involved", O'Brien states. "The Civic is like a family, and it seemed a perfect fit to bring the students and their incredible vocals back to help me knock out some powerhouse holiday classics".
The students won't be the only special guests delivering musical holiday cheer. Besides timeless classics such as "White Christmas", "I'll Be Home For Christmas" and "It's The Most Wonderful Time Of The Year"; surprises include female duets on "Baby It's Cold Outside", music from "Frozen", doo wop backups for an Elvis inspired acappella "Blue Christmas", and a nine piece big brass band accompanying it all.
The Christmas Concert will be an unforgettable musical evening filled with traditional Christmas carols and well-known Christmas melodies and songs. Selecting songs was difficult because O'Brien is so fond of so many.
"I picked my favorites," he says. "I could sing holiday songs for days, but you have to have an even balance of the classics, as well as something everyone can sing along to. These aren't just my favorite songs, they are everyone's. The setlist is going to reflect that".
The show is Saturday, December 8th at 7:30pm. Tickets are available by calling (330) 253-2488 and online at the
Akron Civic Ticketbooth
.
I'll be Home For Christmas:
UPDATE: Live from the show
View this post on Instagram