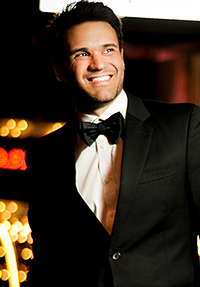 From the biggest hits of Broadway,
to crooning big band arrangements, and even modern chart topping artists, Connor's symphonic pops performances are always showstopping. Performing with symphony orchestras such as The Cleveland Pops, The Fort Worth Symphony, The Charlotte Symphony, The Symphony of Southeast Texas, The Toledo Symphony, The National Repertory Orchestra, The Mansfield Symphony, The Rappahannock Pops, The Detroit Symphony Orchestra, The New Haven Symphony, The Firelands Symphony, The Rochester Philharmonic, The Akron Symphony, Music In The Mountains (The Dallas Symphony), and The Cleveland Orchestra, Connor's unique ability to perform in any style creates endless programming opportunities. Armed with his vocal performance training from
The Eastman School of Music
, to his years of
touring the country as a pop/rock artist
, and starring roles in over
30 musical theater productions
. It's not just the powerful vocals, but his humor, storytelling, and ease with the audience that has garnered such rave reviews, as well as repeat engagements with almost every organization yet.
Videos
Pops Promo
Photos
For inquiries or bookings
Please contact Shirley Morgenstern at Morgenstern Artists: (216) 965-1619 | shirley@morgensternartists.com